When it comes to enjoying a well-deserved getaway, location is key. And if you're planning to immerse yourself in the beauty of Shoal Bay, chances are you're also considering proximity to popular spots like the Shoal Bay Country Club. That's where Hideaway at Shoal Bay comes into play, offering not just a convenient location but a luxurious and unforgettable stay that's practically a stone's throw away from the Country Club.
A Stone's Throw from Shoal Bay Country Club
Imagine stepping out of your luxurious accommodation and within less than a minute's walk, you find yourself at the renowned Shoal Bay Country Club. It's the stuff of convenience dreams, isn't it? No long commutes or need for elaborate planning – just a leisurely stroll away from all the action.
A Luxurious Retreat Just Moments Away
But let's not just focus on the convenience, although that's certainly a huge plus. Hideaway at Shoal Bay offers more than just proximity. It's a luxurious retreat where comfort meets style. After a day of golfing, beach activities, or exploring the local attractions, you can return to your Hampton-inspired townhouse and unwind in elegance.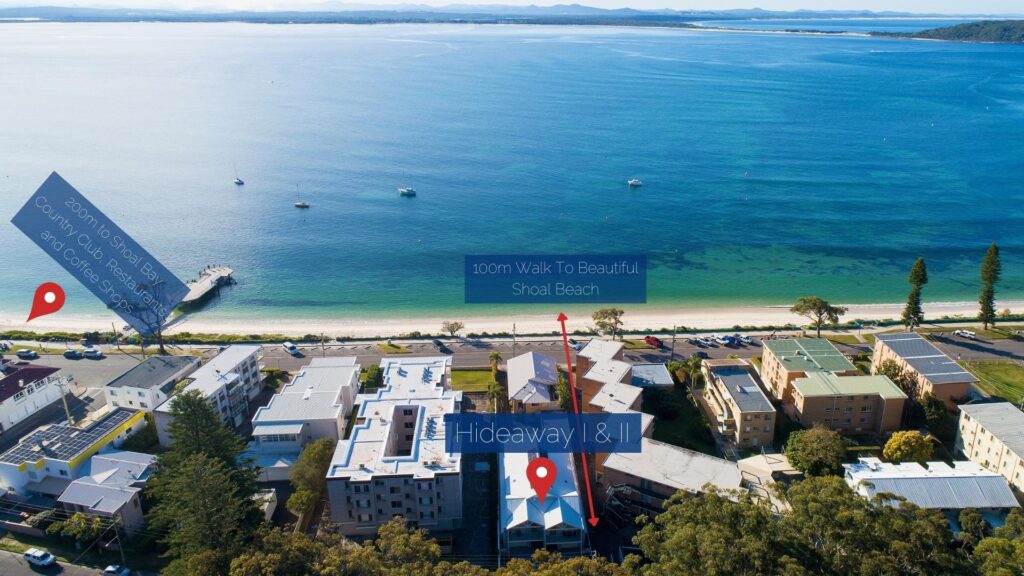 Why Choose Hideaway?
Prime Location: We understand the value of being close to the action. Our accommodation is strategically located, ensuring you spend less time commuting and more time enjoying.
Luxurious Comfort: The Hideaway isn't just a place to sleep; it's an experience. Our townhouses are designed with luxury in mind, offering you a space that's not only comfortable but truly indulgent.
Stunning Views: Imagine waking up to stunning ocean views or enjoying a sunset from the comfort of your accommodation. Our townhouses are designed to make the most of the natural beauty around.
Seamless Access to Activities: Whether you're a fan of water sports, beach walks, or exploring local attractions, our location makes accessing all these activities easy and hassle-free.
Your Home Away from Home: We've created a space that feels like a home away from home. After a day of adventures, you can relax in a setting that's cozy, stylish, and welcoming.
Make Every Moment Count
Whether you're in Shoal Bay for a golfing getaway, a beach holiday, or simply to unwind, Hideaway at Shoal Bay ensures that every moment counts. You won't have to worry about getting to the Country Club – it's practically in your backyard. And when you're ready to rest and rejuvenate, your luxurious townhouse will be waiting.
Frequently Asked Questions
Is Hideaway at Shoal Bay really close to the Country Club? Absolutely! It's just a short walk away – less than a minute, to be precise.
What makes Hideaway different from other accommodations? Aside from its prime location, Hideaway offers luxurious townhouses with stunning views, providing an experience that goes beyond mere lodging.
Is the beach also nearby? Yes, the beach is conveniently close too, making it an all-inclusive coastal retreat.
Are there dining options around the area? Certainly! Shoal Bay has a variety of dining options, ensuring you'll never run out of places to try.
How do I book my stay at Hideaway at Shoal Bay? Booking is easy – simply visit our website or contact us directly for more information. Your perfect Shoal Bay experience is just a click or call away.