Are you dreaming of a beachfront escape that combines luxury, personalised hospitality, and the natural beauty of the coastline? Look no further than Hideaway at Shoal Bay. In this article, we'll explore why this beachfront paradise should be your next travel destination.
The Allure of Beachfront Getaways
Beachfront accommodations hold a special place in the hearts of travelers. The sound of crashing waves, the feel of soft sand beneath your feet, and the breathtaking ocean views create an unparalleled sense of serenity and relaxation.
Reason 1: Unparalleled Coastal Beauty
Shoal Bay, where Hideaway is nestled, is renowned for its coastal beauty. Imagine waking up to the gentle lullaby of the sea and stepping out onto your private balcony to witness the sunrise over the horizon. The pristine white sands and crystal-clear waters make this beach a true gem.
Reason 2: Luxurious Accommodations
Hideaway at Shoal Bay offers luxurious accommodations that are second to none. The well-appointed rooms, elegant furnishings, and modern amenities ensure that your stay is nothing short of comfortable and indulgent. Whether you're a couple seeking a romantic retreat or a family looking for a spacious beachfront haven, Hideaway has you covered.
Reason 3: Personalised Hospitality
One of the hallmarks of stays at Hideaway is the personalised touch that hosts provide. At Hideaway, hosts go above and beyond to make your stay unforgettable and are happy to provide recommendations for fun activities in the area!
Reason 4: Direct Beach Access
One of the standout features of Hideaway at Shoal Bay is its direct beach access. Forget long walks or drives to the beach – here, the beach is right at your doorstep. Step out of your accommodation and onto the golden sands, where you can sunbathe, swim, or simply take leisurely strolls along the shore.
Reason 5: Hidden Gems of Shoal Bay
While the beach is a major draw, Shoal Bay has more to offer. Explore the local culture, visit charming cafes, and discover hidden gems that make this destination unique. From water sports to nature walks, there's something for everyone to enjoy.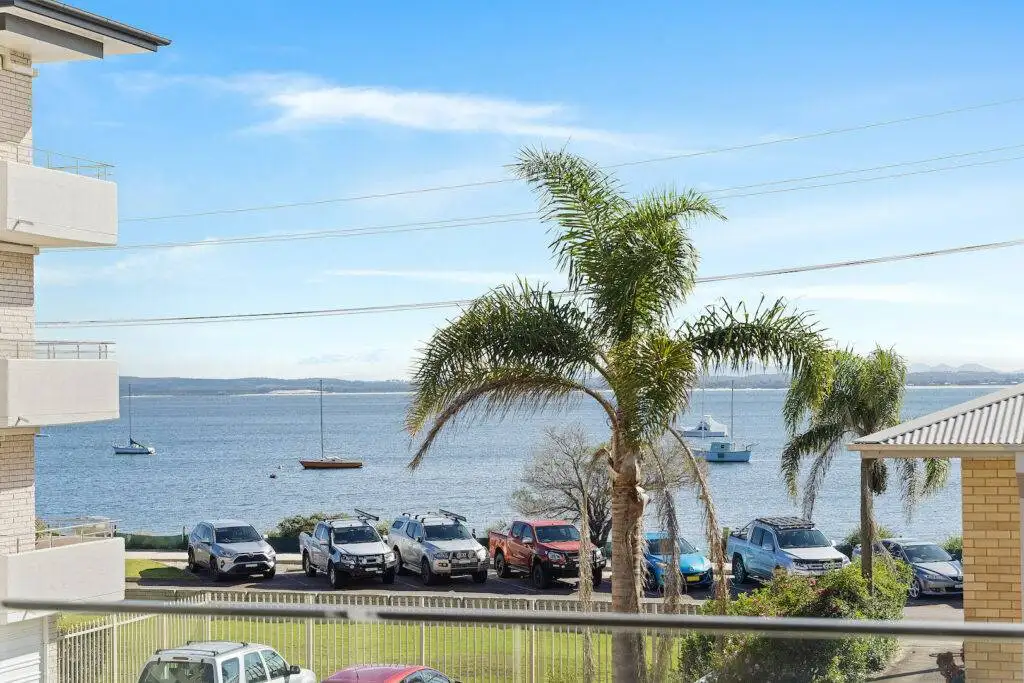 Booking Your Beachfront Retreat
Booking your beachfront retreat at Hideaway at Shoal Bay is simple. Visit the Hideaway listing, choose your preferred dates, and secure your slice of beachfront bliss. Your dream vacation is just a click away.
Conclusion
In the realm of beachfront getaways, Hideaway at Shoal Bay stands out as a beacon of luxury, personalization, and natural beauty. Whether you seek relaxation, adventure, or a combination of both, this beachfront paradise has it all.
FAQs (Frequently Asked Questions)
1. Is Hideaway at Shoal Bay suitable for families with children?
Absolutely! Hideaway offers family-friendly accommodations and easy beach access.
2. Are pets allowed at Hideaway at Shoal Bay?
Unfortunately, pets are not allowed in the accommodations.
3. What are the best times to visit Shoal Bay for a beachfront vacation?
Shoal Bay is a year-round destination, but many travelers prefer the warm months from November to April.
4. Are there dining options within walking distance of Hideaway at Shoal Bay?
Yes, there are several restaurants and cafes nearby, offering a variety of culinary experiences.
5. Is Hideaway at Shoal Bay suitable for a romantic getaway?
Absolutely! The romantic ambiance, beachfront setting, and personalised hospitality make it ideal for couples.